$#*! My Dad Says 1x12
Goodson Goes Deep
On a day off from work, Henry decides to spend some quality time with his father. Ed, however, is only interested in picking up a Steve Garvey baseball that he ordered from Authentic Carl's sports memorabilia shop. When Henry is unable to convince him to do anything else, he decides to tag along with his father.
By the time the Goodsons reach the store, however, Authentic Carl has already sold the ball. Henry helps Ed find out who bought it, and they both stake out the ball owner's house, waiting for him to get home. While Ed doesn't get his ball, he does learn that father/son bonding can be an enjoyable experience.
Vince and Bonnie, tired of Ed interrupting them in their new attic bedroom, decide to move into Ed's garage for more privacy. They have also decided to adopt a positive attitude at all times in the hopes that this will help them conceive a child. But as much as they want to maintain their new-found optimism, the garage's many horrible qualities test their patience.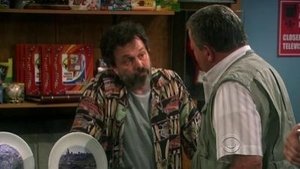 Jan. 06, 2011
$#*! My Dad Says season 1